Bangkok – January 14, 2020 – Toppan (Thailand) Co., Ltd. (Toppan Thailand), a subsidiary of Toppan Printing (Toppan) (TSE:7911) offering space communication and marketing solutions, and REPCO, a subsidiary of SCG Chemicals offering high-value, innovative solutions for maintenance and inspection, have signed a memorandum of understanding (MOU) for the joint development of ZETA technology-based artificial intelligence (AI) and Internet of Things (IoT) solutions for industrial and business applications. A signing ceremony attended by representatives of Toppan Thailand, SCG Chemicals, REPCO, and ZiFiSense was held in Bangkok on December 11, 2019.
Mr. Hiroto Sasaki, director of the TOPPAN Thailand, Mr. Shimpei Oshio, Executive Director of the IC Department, Dr. Suracha Udomsak Vice President and CTO - Innovation and Technology of Chemicals Business, SCG, Mr. Charoenchai Prathuangsuksri Managing Director of REPCO and Mr. Xiaojie Yan, Vice President of Zifisense attended the prominence in this MOU signing event.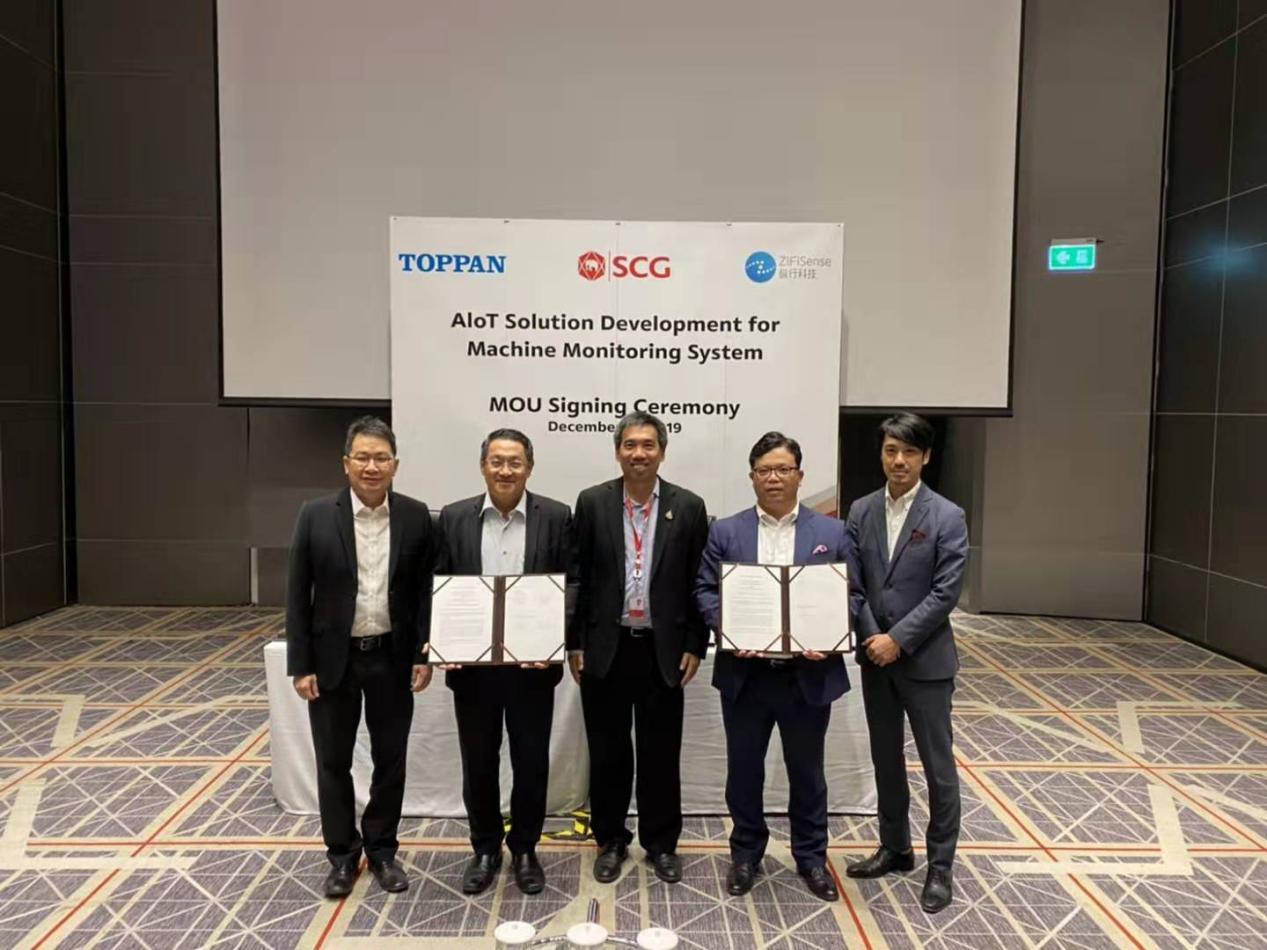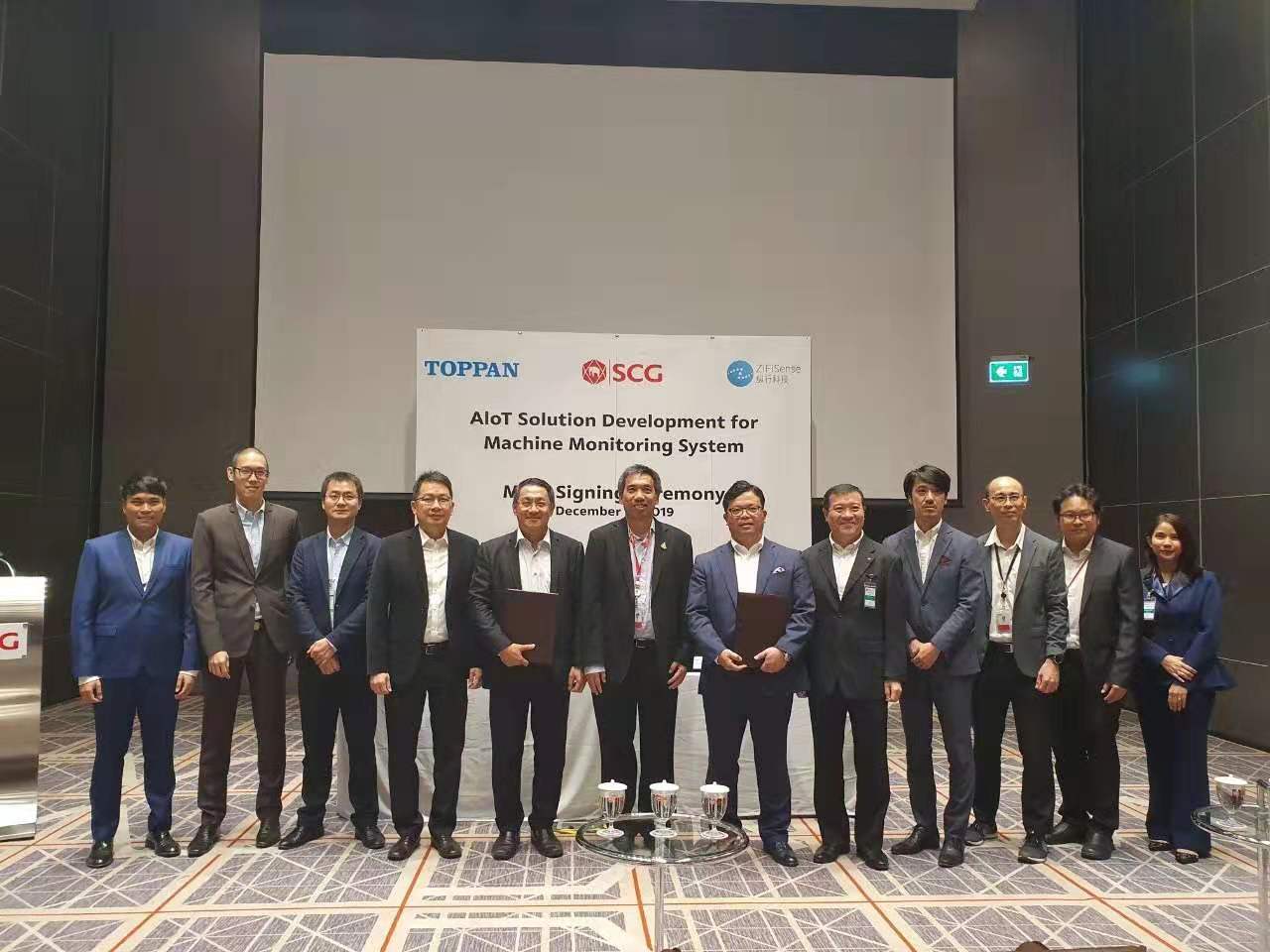 Site of the contract ceremony
The ZETA AIoT Industrial IoT Solution is applied to scenes such as SCG architecture IoT and smart factories, helping SCG to improve production efficiency, improve product quality, and lower production costs.
Our intention for this collaboration at the first stage is to develop AIoT solution for Machine monitoring by utilizing each company's expertise; REPCO's expertise in advance plant monitoring, and TOPPAN's long range and low power data transmission to create a new innovative solutions to meet demands within the industry. I strongly believe that the MOU we have signed today will be the beginning of a long and fruitful collaboration between our two companies.

Dr. Suracha Udomsak

Vice President and CTO - Innovation and Technology

Chemicals Business, SCG
The ZETA AIoT Industrial IoT solution relies on ZETA transmissions that enable anomaly detection and failure prediction by machine learning and training historical operational data and fault samples from sensors such as temperatures, current, sounds, vibrations, and upgrading terminal device algorithms. By incorporating precise machine-learning algorithms into the $1-cost MCUs, the fault-detection accuracy of the ZETA AIoT facility is reached to 90%. 80% of everyday patrols can be achieved with instrumentation and sensor facilities, reducing labor costs by more than 40%. Applicable to various electrical and mechanical facilities such as motors, pump, ventilators, robot arms, compressors, and industrial situations such as glass curtain walls, press platforms, and architectural structures.
Up to now, SCG has tried the ZETA AIoT Industrial IoT solution and evaluated the ZETA AIoT Industrial IoT solution with low power consumption, end intelligence advantage and 100% successful data transmission. SCG contributes to the digitization of Thailand and Southeast Asian countries through the "artificial intelligence + IoT" solution and further promote ZETA solutions in scenes such as buildings and factories.

SCG Chemicals Co., Ltd is one of 3 core businesses of SCG. Chemicals business, SCG is one of the largest integrated petrochemical companies in Thailand and a key industry leader in Asia offers a full range of petrochemical products ranging from upstream production of olefins to downstream production of 3 main plastics resins; polyethylene, polypropylene and polyvinyl chloride.
To better serve customers' requirements, SCG assigns prime importance to the development of new technology and innovation for the creation of high value-added products (HVA) and service solutions.

Toppan is a leading global provider of integrated solutions in the fields of printing, communications, security, packaging, décor materials, and electronics.Serving customers in every sector of business and industry, Toppan's global team of more than 50,000 employees offers optimal solutions enabled by industry-leading expertise and technologies to address the diverse challenges that businesses and society face in today's rapidly changing market.
For more information, visit:https://www.toppan.com/en/news/2020/01/newsrelease200114e.html