On March 5, 2020, the 6th ZETA Japan Alliance Day will be held in Shibakōen, Minato City, Tokyo!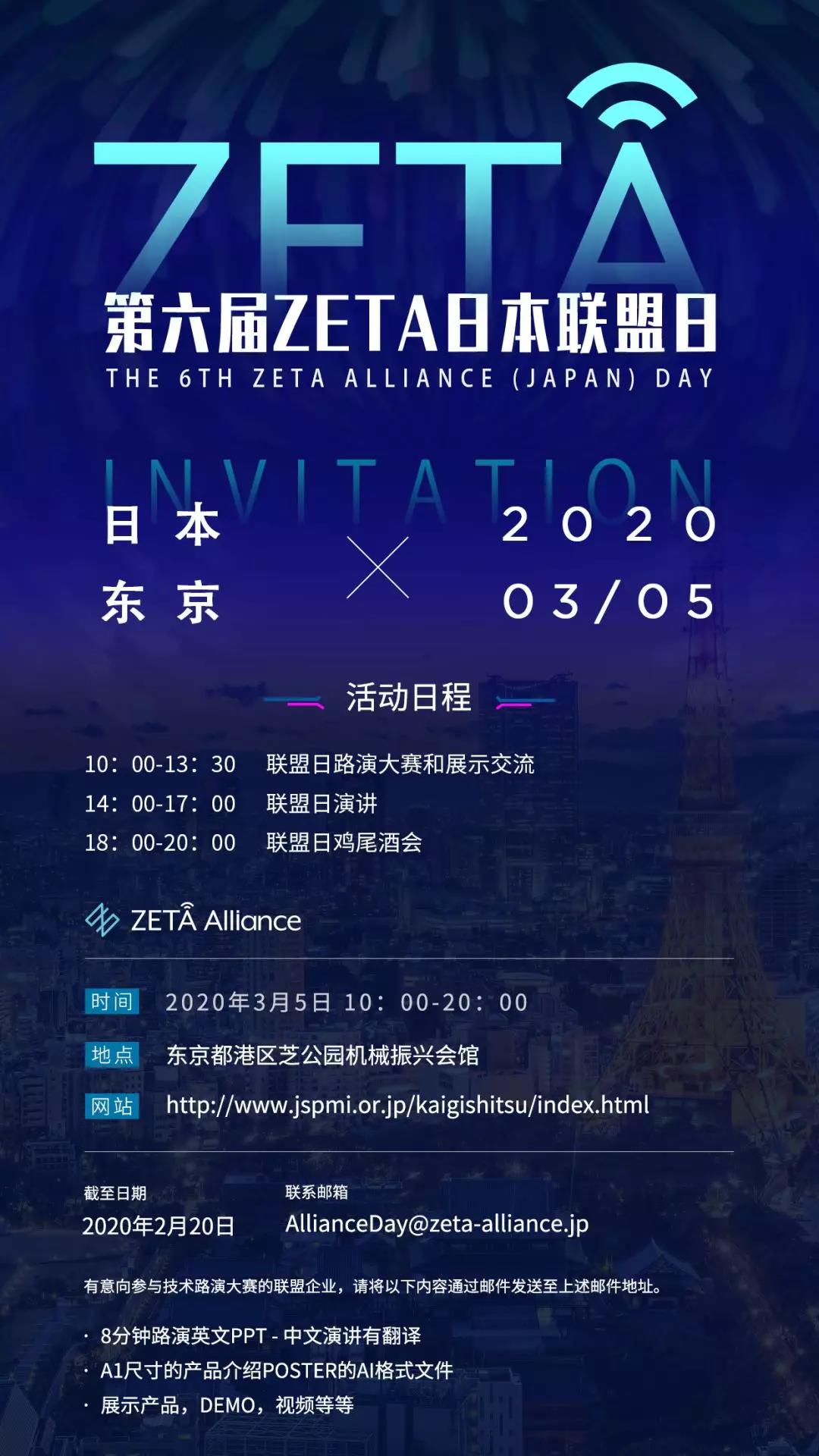 Poster of the 6th ZETA Japan Alliance Day
Join hands with Mizuho Bank to easily connect capital
The 6th Alliance Day will be jointly organized by Mizuho Bank, one of the three major commercial banks in Japan, and the ZETA Alliance. Mizuho Bank will bring together well-known Japanese companies to participate in the start-up roadshow session, with an aim to further promote the Alliance as a Sino-Japanese ZETA IoT ecosystem and to connects innovative start-ups within the Alliance with the financial community.
Mizuho Bank, established on April 1, 2002, is the core company of Mizuho Financial Group, one of the world's largest financial groups with assets of 149 trillion yen. Their major customers are large enterprises, financial institutions and important overseas enterprises.
Exploring business opportunities in the Japan market
A Closed-door Exchange Meeting will be held on March 6, 2020, which is to be held to offer alliance members with the opportunity to meet representatives of NTT DOCOMO, Softbank, Toppan Printing, Maxell, Socionext amongst other well-known Japanese companies with an aim to explore potential cooperation opportunities in the booming IoT solutions market.
Launch of "ZETA Factory"
The "ZETA Factory" platform will be announced on the Alliance Day. Bringing together IoT SaaS, sensors and solutions providers within the ZETA ecosystem to jointly offer standardized products and services, the platform shall provide more convenient sales channels and shorten the sales cycle for Hardware vendors in Alliance. In addition, it shall provide Software vendors with a more standardized, convenient and reliable supply chain system and standardized local operation and maintenance services.
ZETA Factory plans to pull the supply side and the demand side through standardized and unified solutions to promote a virtuous cycle of the market, and create value for both upstream (HW, sensors and semiconductors) and downstream (SW applications and system integrators) within the IoT value chain. Success stories of the "ZETA Factory" idea can be found in a number of sectors such as smart agriculture, smart buildings, smart logistics.
Technical Roadshow Contest
The 6th Alliance Day is the first time to feature start up roadshows which provides SME members an opportunity to showcase their differentiators in the market to incumbent enterprises. In addition to the chance to win generous prizes, winners of the roadshow are expected to grab opportunities to promote their products in the Japan market.

Multiple channels of promotion
Start-up Roadshow Agenda:
1.10-minute Product /Technology/Business Case Presentation.
2.F2F meeting on commercial collaborations with incumbent Japanese businesses:
3.Candidates evaluation and winners selection.
4.Prizes award ceremony.
5.Synchronized business communication at the booth after the road show (knocking the door of the Japanese market)
IoT companies interested in participating in the roadshow competition are welcome to submit the following documents via email to the mailbox below.
1.8-minute roadshow PPT (.ppt format, in English)
2.A1 size product introduction poster (.ai format file)
3.Showcase products, demos, videos and more.
Email: AllianceDa​y@zeta-all​iance.jp​
Deadline: February 20, 2020