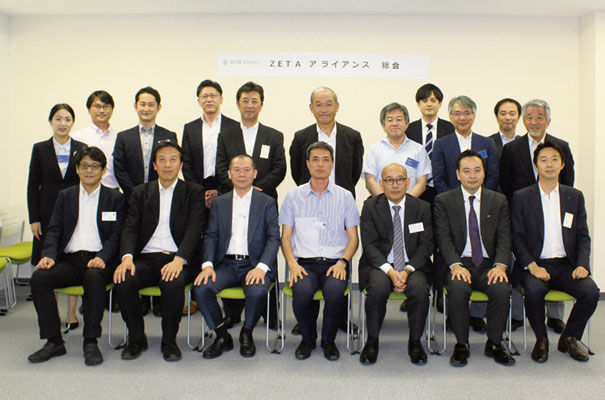 Cambridge technology startup ZiFiSense has accelerated its worldwide traction by helping to build a global consortium and platform to deliver fast and scalable IoT.
The ZETA Alliance (Japan) was formally established in Tokyo where ZiFiSense CEO Dr Zhuoqun Li evangelised the impact of the power play. Based on the ZETA IoT technology developed by ZiFiSense, the ZETA Alliance also features Japan's TECHSOR Inc., IT Access Inc., QTnet Inc., and Toppan Printing Co., Ltd.
The aim is to create an innovative ecosystem for low power and wide area IoT targeted at multiple vertical markets and to apply the ZETA LPWAN technology through collaboration with enterprises and individuals across a range of industries.
The standard for unlicensed bands developed by ZiFiSense uses Ultra Narrow Band communication in harness with intelligent mesh topology to improve IoT coverage in a cost effective manner.
The average networking cost of ZETA is only a fifth of other LPWA technologies. The solution also enables smart data analytics with ZETA AIoT (Artificial intelligence + IoT) which run highly efficient distributed machine learning algorithms over ZETA network nodes without losing the low power and wide coverage features.
ZETA technology has already been deployed in several industries and sectors including the smart city segment, property management, hospitality, manufacturing, oil & gas, construction and transportation.
Zhu Qiang, chairman of ZETA Alliance, said at the launch conference: "The ZETA Alliance (Japan) is not only a corporate alliance for technology promotion but also a consortium of semiconductor, sensor, communication, cloud service and application companies to create a global IoT supply chain for tackling some of the biggest issues in the connected world.
"The alliance aims to provide a platform for everyone to integrate resources, complement each other, and fully communicate and collaborate."
The establishment of Japan's ZETA alliance also aims to promote ZETA LPWAN in Japan based on the existing partnerships. The alliance has brought together device development, system integration, cloud service, application development and service companies to enable end-to-end innovation, research, and business activities in Japan.
ZiFiSense founder and CEO, Dr Zhuoqun Li, chose the launch event to share how the ZETA AIoT technology transforms the traditional network connectivity into LPWAN nodes with edge computing, which creates a new paradigm combining artificial intelligence and IoT to resolve current high-cost and low-profitability dilemma in the IoT industry.
ZiFiSense is funded by top investment groups including Fortune Capital and PNP. Its network has become the biggest low power wide area network in the license-free band in China.
The company has developed three categories of solutions including smart city, smart lighting and smart community for serving leading vertical markets.
Customers range from mobile operators and government organisations to system integrators and multiple SMEs globally.
• PHOTOGRAPH: ZiFiSense CEO Dr Zhuoqun Li pictured in the centre of the front row at the ZETA Alliance launch in Japan